Technical Books on Photography by Harold M. Merklinger
(http://www.trenholm.org/hmmerk/ updated 7 January 2018)

Introduction
Much of the original basic information at this site is on this main page, however, there are links to text and graphics on separate pages that provide additional detail. On each of these supporting pages, the first available link will usually take you back to where you left this main page, or at least back to the following Table of Contents. If the return link does not work (because, for example, the server is busy) go back to the previous page. If you wish to move ahead quickly now, you may jump directly to any of the topics in the following

Table of Contents

On This Page:

On Other Pages at This Site:
The out-of-focus image of a triangle, taken with a lens having a triangular aperture can be quite surprising: Like this...

But those intersecting white lines in this image do not actually exist; they are an illusion of the eye! You can learn more in the PDF version of "A Technical View of Bokeh," downloadable from the All PDF and MOV files page. Recently, October 5 2005, I encountered a very similar phenomenon while printing with an ink jet printer. I aborted a print job shortly after it started. The printer had partially printed only about 3/4 inch of the 10 inch tall print. As this was a test print anyway, and the top of the print contained nothing but blue sky, I re-submitted the same sheet of paper for the next print of the same image. As expected, the top 3/4 inch was a bit darker than the rest of the sky, but there was this "white line" across the print between that part of the print that was overprinted and the remainder of the print! That white line cannot exist, of course, as the the sky everywhere should be at least as dark as a single pass print alone!

NEWS
On 28 February 2023 a link to the US version of the Scheimpflug Patent (available from Google) was added.

On 7 Jan 2018 a page was added concerning Conrad Beck's 1902 patent on the Depth-of-Field Scale.

On 24 Sept 2017 a page was added on the Object Field method of determining depth-of-field for view cameras. This reports an experiment carried out by the author about 12 years ago.

On 9 July 2016 a page was added describing a minor show of photographs at the Marine Interpretive Centre at Fisherman's Cove, Eastern Passage, Nova Scotia from 15 July to 15 Septemner 2016. This is Harold's first public showing of photographs in 63 years! The show consists of 36 images taken in and aroune Fisherman's Cove over the years 1980 to 2016.

On 6 Oct 2012, a second look at the state of Black and White Digital Photography was posted. This is an essay in three parts offering the opinion that with the Nikon's D800 we now have a 35 mm sized camera capable of emulating black and white film, but that ink-jet printers are not yet up to the task of printing fine black and white prints except at large print sizes.

This site - somewhat neglected as it is - has now been on the Internet for 15 years! (as of Dec 2010)

The downloadable Focusing the View Camera PDF file was revised on 30 July 2010 (now FVC161.pdf) to correct issues when viewed on an Apple iPad. See the download page for details.

A new set of view camera movies was added on 5 March 2010. These movies should loop back and forth properly with current versions of QuickTime. See here for details.

It's been quite a while since something was added! As of 30 July 2009, new material concening phographic resolution was added. An introduction to three "papers" on the topic is found here. This information arises from an "essay" published on Michael Reichmann's Luminous Landscape web site. The essay by Ray Maxwell proclaims the end of Moore's Law as it applies to photography. He claims the Rayleigh Resolution limit will soon step in to limit the number of megapixels we can reasonably use. Harold and others disagree! In the third of the three papers, Harold tests his Canon 50D only to find that by some estimates the 50D has already passed Rayleigh's "limit". Another writer in the last series of essays, Dan Seligson, says that in his field, the Rayleigh limit has been surpassed by a factor of 5!

FOCUSING the VIEW CAMERA is now available for download as a PDF file! As with The INs and OUTs of FOCUS, I consider this a form of shareware; that is, donations welcomed. See this page for details. The downloadable version is not the same version still available on paper. The downloadable version is actually expanded; the former addendum and the Shutterbug article on perspective and distortion have been included within the main text. And there are a few other minor additions.

The Digital Black and White page has been updated in November 2004, March 2005, July 2005 and September 2005, including an update to the Epson Stylus Photo R-1800 printer review.

On 5 November 2004 I added a general discussion of Digital Photography: Is the information at this web site still relevant? What can we expect of photography in the future?

Much of my time over the past year has been aimed at better understanding what is involved in dealing with black and white images in the digital domain. It is trickier than one might imagine - especially printing at high quality. So there's now a new page dealing with Digital Black and White. Supporting this are a number of product reviews supporting this theme: Minolta ScanElite 5400 film scanner, PiezographyBWicc, Hewlett-Packard Photosmart 7960 Printer , Harrington's QuadTone RIP (used with an Epson 2200 printer) and Epson Stylus Photo R-1800 printer.

I regret to say that The INs and OUTs of FOCUS is now out-of-print. There may be a few suppliers out there who still have a few copies, but I am out. I intend to re-write the book from end to end, updating it with new information - such as issues related to digital imaging. The new version will not appear for some time. I had suggested February 2002, but that obviously didn't happen. There are still lots of copies of Focusing the View Camera in stock. Starting in April 2002. However, a PDF version of The INs and OUTs of FOCUS is now available for download as a sort of shareware.

Digital cameras bring a new set of potential pitfall to the imaging process. One of these is "aliasing" - which can occur when the optical image contains more detail than the image sensor can resolve. Often the effects are not readily detectable, but when the optical detail is highly repetitive, moiré patterns will develop. Below are some examples showing portions of a building with corrugated siding illuminated by oblique direct sunlight. These images were all taken within minutes of one-another, but the lens focal length was changed slightly from shot to shot.

First of all, here's close to what we would like to see - a reasonably uniform surface:

But we could see this:

Or this:

.
You can find an explanation of this phenomenon on the Schneider web page.
History of Additions to this Site
On 7 Jan 2018 a page was added concerning Conrad Beck's 1902 patent on the Depth-of-Field Scale.
A page on the Object Field method of determining depth-of-field for view cameras was added on 24 Sept. 2017
This Is Fisherman's Cove! (photo show) page added on 9 August 2016.
3-part essay on B & W Photigraphy added on 6 Oct 2012.
The papers on Resolution were added on 30 July 2009.
The Photography Links page was revised - removing many non-functional links - on 15 December 2007.
A panoramic view of Halifax/Dartmouth (taken on 13 July, 2007) was added on 24 July 2007.
FOCUSING the VIEW CAMERA was updated and made available for download on 30 December 2006.
The View Camera Focus Page was updated slightly on 22 December 2004. It now includes a version of VuCamText.pdf that has the movie files included as attachments, allowing one to make just one download - plus some added work - if you have Acrobat Reader 6.
An Essay entitled "Photography Today and Tomorrow" about the future of photography was added on 5 November 2004.
The Digital Black and White page was added on 12 October 2004 and updated in March and July 2005. It now contains a comparison with a dye sublimation print.
The Kodak Bantam Special was added to the Unusual Cameras page on 27 Oct 2002.
The INs and OUTs of FOCUS was made available for download on 29 March 2002.
One more addition to Unusual Cameras on 15 Jan 2002: A Ricohflex VII 35 mm camera.
The Photo links page was extensively revised on 12 Jan 2002.
Two cameras were added to the Unusual Cameras page on 8 Jan 2002: A K.I. Monobar (35mm view camera) and a Pentax KX Data-K with quartz lens.
The site was duplicated at http://www.trenholm.org/hmmerk on 29 Dec 2001.
Voigtlander Vitoret with Leica Screw Mount added to Unusual Cameras page.
Moiré example with digital camera added 6 Jan 2001 (immediately above).
A preliminary PDF version of Scheimpflug's 1904 British Patent added 15 Feb 2000 and last revised 20 Feb.
A reference has been added below to the use of the Scheimpflug Rule in Ophthalmology (on 13 Nov 99).
Some experiences with a SmartMedia-to-PCMCIA adapters were added on 26 Dec 98 and updated on 9 Oct 99.
One link was added on the More on Photography page on 9 Oct 1999.
The observations concerning the Olympus D-600L and FlashPath have been updated to include comments about the D-620L (26 Dec 98).
A PDF format version of Jules Carpentier's British Patent was added on 11 October 1998.
Three cameras were added to the Unusual Cameras page on 20 September 98.
On 1 Sept 98 I added some observations about the Olympus D-600L Electronic Camera and the accessory FlashPath adapter for reading flash memory cards in a floppy drive. (Updated 7 Sept 1998.)
Two downloadable spreadsheet files were added on 16 Aug 98 to assist view camera (and other) users to establish a consistent sharpness standard when lenses of several different focal lengths are being used. A description of the spreadsheets is available on the View Camera Focus Page.
A Shockwave Flash 2 version of the short View Camera movie has been added. See the View Camera Focus Page.
The article "A Technical View of Bokeh" published in PHOTO Techniques May/Jun 1997 is now available here for download as a 332k PDF file.
The article "Scheimpflug's Patent" published in PHOTO Techniques Nov/Dec 1996 is now available here for download as a 112k PDF file.
With digital photography growing in popularity, sites like The Digital Camera Resource Page are most welcome.
Comment on Back-to-Front View Camera Focus
A comment has been added to the View Camera Focus page concerning corrections to the 'back-to-front' focusing method. This is the method where one uses the camera back to achieve the desired focus, then transfers the back angles to the front movements of the camera, and straightens the back. Especially for close-up photography, corrections are needed. An Adobe Acrobat PDF format correction table is offered.
Reproduction of 1938 Zeiss Ikon Main Catalog available!
Recently off the press is the 167-page reproduction of Zeiss-Ikon's 1938 Main Catalog covering all the models of cameras and accessories available in that year. Available through Seaboard Printing. Check out this link for prices and ordering information.


Download Flyer
You can now download a 4-page flyer describing The INS and OUTs of FOCUS and FOCUSING the VIEW CAMERA in Adobe Acrobat PDF format (about 215k). (The Acrobat Reader needed to view and print this document can be downloaded from the Adobe Web Site.)

About The INs and OUTs of FOCUS
(Out-of-Print, but now available for download!)

ISBN 0-9695025-0-8, 86 Pages

For a larger picture of the cover, select this link or click on the cover illustration above (8k GIF).

The traditional depth of field theory, developed over a hundred years ago, deals with the ability of the image to portray detail. The usual standard is that the smallest detail need be no finer than the focal length of the camera lens (f) divided by 1500. (Most films are able to record detail about an order of magnitude finer.) The standard camera can focus precisely only at one subject distance, but if we accept the usual standard of acceptable sharpness, the lens is deemed to focus adequately well over a range of subject distances. That range of distances is called the depth of field. Applying this theory the way virtually all photography books suggest, Harold found he often obtained substandard images. He realized he was demanding a higher standard of resolution than f/1500, but when he adjusted the theory to reflect the resolution standard he was sometimes able to achieve, the depth of field would be vanishingly small and adequate focus ought to be just about impossible. This observation did not square with his observations either. Something seemed to be wrong with the theory.

Applying a little high school algebra Harold realized that there was nothing wrong with the physical theory. The basic assumptions on which the theory is based are simply not appropriate for some photographic applications. If one asks a slightly different question, one obtains surprisingly different answers. If one asks "What do I need to do to resolve objects a quarter-inch in diameter at any subject distance?", the answer is to use a lens aperture smaller than one-quarter of an inch and focus at infinity! Of course diffraction limits resolution if the lens aperture is too small.

What's too small? Should I ever focus at the hyperfocal distance? Should I always focus at infinity? What's the best aperture to use? These are some of the questions The INs and OUTs of FOCUS is intended to answer.

About FOCUSING the VIEW CAMERA
(Now available for download!)

ISBN 0-9695025-2-4, 128 Pages

For a bigger picture of the cover, select this link or click on the image above (7k GIF).

A view camera is that old-fashioned type of camera for which a photographer had to disappear under a black cloth to focus. The camera has no viewfinder other than a piece of ground (frosted) glass placed where the film will eventually go. The power of the view camera is not so much in the method of previewing the image (although some will argue that point) but in the ability to focus precisely at multiple distances simultaneously. View cameras are almost always designed to let the lens and the film be placed at weird angles. With normal cameras the camera needs repair if the lens axis is not perfectly perpendicular with the film. With a view camera this is the normal way it's used.

The Scheimpflug Principle
In 1904 an Austrian Army officer, Theodor Scheimpflug, patented several special cameras (enlargers, really) for correcting the undesired distortion in photographs taken from balloons when the camera was not pointing straight down. The basic principle had been described in a patent by the French camera maker Jules Carpentier three years earlier (a copy of Carpentier's British Patent is available here in PDF format), but Scheimpflug understood the matter thoroughly. Scheimpflug's British Patent (780k download) describes how, among other things, three planes must converge along a single line. These three planes are the film plane, the subject plane and lens plane. The lens plane is a flat surface drawn through the center of the lens and remaining perpendicular to the lens axis (a line straight through the lens). Scheimpflug's Principle has been one of the guiding rules for view camera users ever since. The Scheimpflug Principle may also be referred to as The Scheimpflug Condition, or The Scheimpflug Rule. Scheimpflug's methods have been used extensively in the field of photogrammetry (making maps from photographs) ever since he originated them.

Scheimpflug also obtained a US Patent which may be downloaded from Google. The US patent is quite similar to the British Patent, but includes information on dealing with telephoto and retrofocus (wide angle) lenses.

For a diagram of the Scheimpflug Principle, select this link (4.1k GIF).

A proof of the Scheimpflug Principle is available on the Web (in PDF format, and along with much other view camera analysis) at the site of Robert E. Wheeler. (My original link to the Open University of Brussels article entitled Photographie et géométrie does not seem to work any more.). More information about Theodor Scheimpflug and his patent is provided in the Nov/Dec 96 issue of PHOTO Techniques magazine, pages 56 to 58, also available as a 112k PDF file here.

The Scheimpflug Principle is also used extensively in Ophthalmology - the diagnosis of medical problems related to the eye. Dr. A. K. Junk has a web page describing such application of Scheimpflug's methods. This page includes a photograph of Theodor Scheimpflug. Dr. Junk claims Scheimpflug first published his work verbally in 1896 and then on paper in 1897. The Ophthalmology folks have even created a "Scheimpflug Club".
Limitations of the Scheimpflug Principle
The problem is that Scheimpflug's (first) Principle is just a constraint. In mathematical terms, it's a "necessary but not sufficient" condition. One can find an infinite number of ways to adjust a view camera that obey the Scheimpflug Principle but still do not put the image in focus. When you somehow do find the right camera set-up, sure enough, it obeys Scheimpflug. Most view camera photographers focus the camera through hard work and experience.
Howard Bond, in an article entitled "Setting Up the View Camera" (Photo Techniques, May-June 1998, pages 41-45), describes a way to focus a view cameras through systematic trial and error. One makes an arbitrary focusing movement and observes whether the focus got better or worse. Depending upon the answer the photographer either increases or decreases the amount of lens tilt. Eventually one reaches the necessary settings. Howard Bond's article is available on the web at Q.T. Luong's site here.

Harold does it differently. Using a simple table he calculated, he sets the angles of the film plane and the lens plane using an angle-measuring level. Then, one simple focusing motion of the camera back puts the image in proper focus.
It is entirely possible to combine the two methods. Howard Bond's method presumes enough basic knowledge to at least get started in the right direction. Harold's method assumes you know exactly what you want and takes you directly to that result with the aid of tables and suitable tilt or swing measuring instruments. A workable combination method would be to use Harold's tables and estimation to set the initial settings and then use Howard Bond's method to refine the settings without recourse to so much as an angle scale.


The Hinge Rule
There's a second law of optics similar to Scheimpflug's (first) Principle. Like the earlier rule, this one, also described in Scheimpflug's patent, states that there is another set of three planes that must converge along a common line. Like the first rule, one of the planes is the subject plane. The second plane is again one through the center of the lens, but this time parallel to the film. And the third plane is again perpendicular to the lens axis, but now one focal length in front of the lens. This second principle seems to have been largely ignored by photographers.

The second rule, like the first, is a "necessary but not sufficient" condition, but, when both are satisfied, the camera will be in focus.

Even more importantly, the second rule, which Harold calls "The Hinge Rule", allows one to calculate the required amount of lens tilt relative to the film plane. Unlike the original Scheimpflug Rule, the Hinge Rule alone provides information the photographer can use readily. To help set up the camera, every copy of FOCUSING the VIEW CAMERA comes with a water-resistant card bearing a special table relating focal length, lens tilt, and a readily understood distance J.

For a diagram of the Hinge Rule, select this link (6k GIF).

For more of the History of Theodor Scheimpflug and his 1904 patent, see the Nov/Dec 96 issue of PHOTO Techniques, or download a PDF copy of the article here.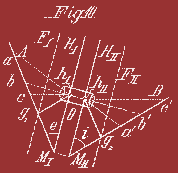 Scheimpflug's Figure 10 from his patent, reproduced above, explains all about the Scheimpflug Rule, the Hinge Rule and the Reciprocal Hinge Rule.



View Camera Focus
The Hinge Rule and the Scheimpflug Rule together determine how the view camera focuses. Both rules must be obeyed. The amount and direction of lens tilt determines where the Hinge Line is. Any movement of the camera back towards or away from the lens, working through the Scheimpflug Rule, causes the plane of sharp focus to rotate about the Hinge Line. It's a bit hard to describe in words, or even in still pictures. A longer explanation is given on the separate View Camera Focus Page. A PDF-format article and five short QuickTime movies are available there to illustrate the combined action of the two rules.


View Camera Depth of Field
These two rules also allow us to determine the conventional depth of field even when lens and film are tilted. And strangely, the depth of field for view cameras is actually easier to calculate than that for normal cameras. FOCUSING the VIEW CAMERA describes three basic methods for determining view camera depth of field.

Scheimpflug didn't cover depth of field in his patent, but he did offer more rules to deal with tilted mirror lenses!

For a diagram explaining basic view camera depth of field, and providing a link to an on-line calculator, select this link.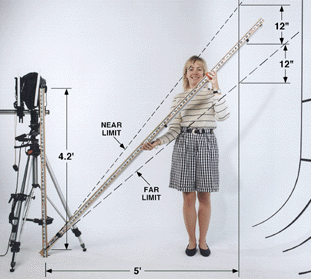 The July/August and Sept/Oct 1996 issues of VIEW CAMERA magazine carried Parts 1 and 2 of an article about View Camera Focus and Depth of Field. See pages 55 to 57 in the Jul/Aug issue and 56 to 58 in the Sept/Oct issue. Part 1 describes the principles of view camera focus, illustrating the application of the Hinge Rule to obtain the desired results. Part 2, in the SEPT/OCT 96 issue illustrates how to determine depth of field with tilted lenses. Thanks to Chris Reardon, Robinson-Campbell Photography and, of course to Lisa, for help in illustrating the articles. For more explanation of depth of field as applied to the photograph of Lisa, try this link.


How to get These Books
These books are available from a number of sources, as listed at this link.


More Information On Focusing (and perspective)

Reprints (PDF format) of Harold's articles published in SHUTTERBUG magazine may be found at Further Information on Focus.


---
Interesting non-photo links:

More about Halifax in Nova Scotia.
Well, maybe this is a photo-related link, but.... For an experimental panoramic view of Halifax and Dartmouth, Nova Scotia, try http: //www.trenholm.org/hmmerk/HalifaxPanorama/HalifaxPanorama.html. This view was made with Photoshop CS3's Export-Zoomify command, which I believe is still in "beta" form. Not quite sure what the system requirements are, but I believe it requires the Adobe Flash Player 9 plug-in. Thus if you have an older system/browser for which there is no Flash 9 plug-in, you are probably out of luck. (Some other Zoomify views will nevertheless work with Flash Player 8 - but seemingly not this one.)


---
Copyright Notice

The contents of this page, the contents of other pages at this site and the contents of the downloadable portable document format files (or printed versions thereof) are copyright Harold M. Merklinger of Halifax, Nova Scotia, Canada. With appropriate attribution, either to "Harold M. Merklinger" or to: "http://www.trenholm.org/hmmerk/", personal or not-for-profit use may be made of these materials. That is, providing individuals or organizations acknowledge the source of the information and do not charge for its use or distribution, they may copy and use the materials provided. Without the express permission of the author, the material may not be used in or included with printed or formatted-for-computer records offered for sale. Individual photographers, professional or amateur, are free to make personal use of this information in their work. Information on how to contact the author is provided at How to get these books.


---
Return to the Photo Books Table of Contents

---
This page was last updated on 28 February 2023.